FranLink System™
Powered by the Franchise Broker Association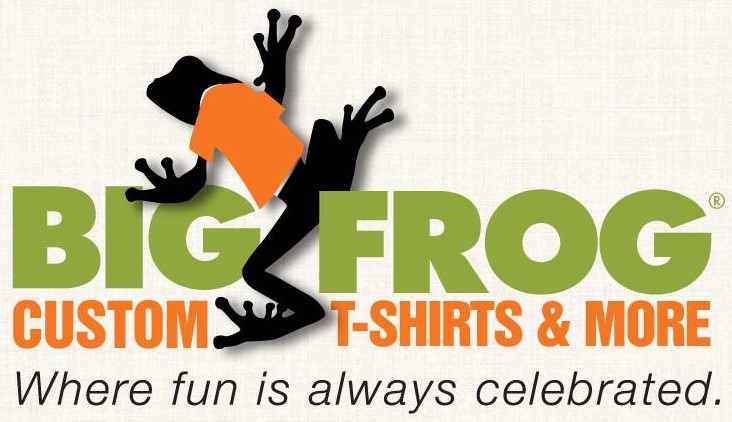 Big Frog Custom T Shirts, Inc
We're not your father's T-shirt shop! Big Frog Custom T-Shirts & More is a one-of-a-kind retail franchise with few competitors. A Big Frog store is a lot of fun and offers unlimited income potential plus multiple unit opportunities, as well as a really great lifestyle with M-F 9-6 and Sat. 9-1 business hours. We are creating a massive buzz in the custom garment decorating industry ($62+ billion/year) using new Direct-to-Garment digital inkjet technology and a green, environmentally-friendly printing process.
This cutting-edge 'eco-friendly' inkjet technology allows us to print and digital image directly into the garment with water-soluble garment dye, giving the customer a much higher quality, more vibrant and longer-lasting product. We're the only franchise or chain specializing in DTG!
Customer benefits include creativity and FUN, free design work, no setup fees or minimum order quantities. The breathable prints won't peel, crack or fade and we can print a full color photo-quality image. We offer 24-hour turnaround on in-stock items and sell only top quality garments and gifts. There is an amazing "WOW Factor" for the customer!
A Big Frog franchise offers high margins, huge protected territories of 150,000 population, and is a fun, recession-resistant, cash business. We are a low investment for retail ($114,501 to $242,801 including working capital), and plan to expand to 200 stores in the next five years. Big Frog provides terrific financial information in our Franchise Disclosure Document, including annual revenue and expense info from every store, which is the envy of our industry.
Regardless of whether you have business ownership experience, you can succeed with a Big Frog franchise because we offer complete training, comprehensive support, a proven business system, and a product that has shown itself to be popular and in-demand.  All you need to succeed is a great attitude, lots of energy and the ability and motivation to get out and talk to people!
Big Frog Custom T-Shirts & More is not just a t-shirt shop. Big Frog offers a unique opportunity to be a community-involved business operator as well as to help with the success of local charities, schools and nonprofit organizations. Big Frog's retail locations are extremely fun, upbeat and hip, and we follow a "customer is always right" attitude while always serving with a smile. An amazing customer experience is of utmost importance!
A Big Frog Custom T-Shirts Franchise offers the opportunity to control your life and achieve your goals for the future. Yes, it will require dedication and hard work on your part. But if you have the drive and ambition to build a business in a gigantic industry that is changing rapidly due to this new technology, while being backed by the systems and support of a dedicated franchise company… If you share the passion for excellence and customer service on which Big Frog is founded, we invite you to consider our franchise opportunity.
Extensive Training:
Big Frog University owner/manager training includes eLearning and five days of classroom and "real-world" training at our National Support Center in beautiful Dunedin FL, covering: networking and marketing, employee recruiting and training, store management, point of sale and design software training, garment printing, inventory ordering, business planning, and much more.
Our training manager will come to your store for 5 days to work with you and help train your employees as your store opens, and one of our franchise performance team will visit you to help you raise community awareness several weeks after you open your store.
Lots of ongoing training is available, including additional eLearning modules,  live webinars, recorded videos, intranet forums, franchisee peer groups, on-site visits and an annual FROG-A-Thon convention.
Basic Franchise Info
Average Investment: $200000 - $214000
Minimum Investment: $114501 - $242801
To see this information click the button below!
Min. Liquidity: 50000
Years in Business: 2006
Open Units: 91
In-House Financing: Yes
Lead Assist: Yes
Coaching: Yes
Request Information